underestimating Bed Bugs
Attacking Bed Bug issues instead of researching. There is an infinite amount of information on this incredible insect and they should be studied thoroughly before you even attempt to approach this elusive and seemingly indestructible pest. Let's face it you will probably still need a professional in the end. Most of the information on bed bugs and bed bug treatments will be misrepresentation, so let's do a lot of research before you waste your time with products and methods that don't work.
Expecting to much to soon
Looking for instant results will only discourage and frustrate you, learn as you go because the best technicians will continue to improve and retool their thinking in order to stay top notch professionals. Bed Bugs are difficult to find, control, and kill for casual customers. Let's plan and develop a plan of attack!
Using the same techniques that don't work!
Doing the same thing over and over again and expecting different results is the definition of insanity, focus on proven basics first. Improve the sanitation, wash bed clothes, remove clutter, and vacuum. Then move on to supplemental methods and treatments, insecticides, heat, etc.
Removing furniture and clothing
Most of us believe that throwing out beds and furniture will ultimately solve the problem and it won't. When furniture is removed and replaced with new furniture you must allow time to positively know that you are pest free, it takes 2 weeks to 3 or 4 months at least to know that bed bugs did not come out of tertiary areas and find their way back onto the furniture and repopulate the new furniture. Try and eradicate the target pest before discarding valuable furniture. Professionals that specialize in Bed Bug Removal can salvage all of your furniture. Throwing out furniture will provide comfort for a short period of time.
Exhausting all of your savings
Before you empty the bank account and call on friends and relatives you should consider calling a Professional. Solving the Bed Bug issue immediately is extremely important, they will completely eradicate the Bed Bugs and they will save you time, money, and belongings. HI-TECH PEST CONTROL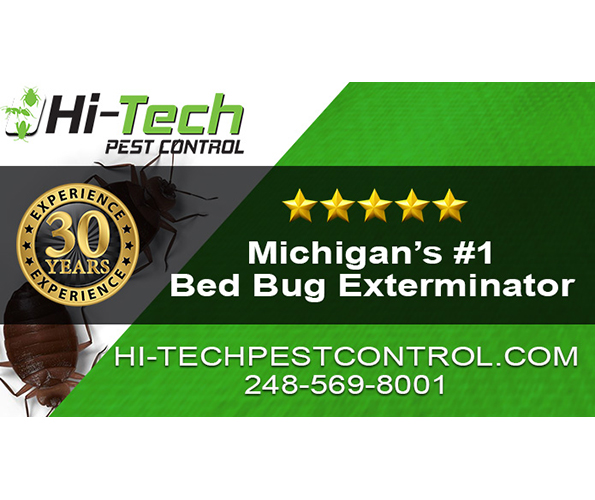 is the Exterminator that you can trust count on. Call us for a free estimate and consultation and live pest free tomorrow – already abandoned by others, not a problem! We are eager to serve you!