Affordable bed bug exterminator in Lincoln Park
Michigan
Michigan's #1 Bed Bug Exterminator
Have a Bed Bug Problem? 
Call Today!
We are so confident in our approach to eliminating bed bugs that we are the only Michigan bed bug company to offer a 6-month warranty on all bed bug extermination services!
Hi-Tech Pest Control Company can offer timely bed bug removal assistance to you in Lincoln Park, Michigan!
At any time that you need our services, you can give us a call and our experts will always be eager to help you out. Our services begin with a free of cost inspection of your facility or establishment and thereafter, with your permission, we begin our elimination activities. In some cases, elimination might take multiple sessions – given that not all properties or pest infestation problems are equal in nature. We always manage to get rid of pests with chemical treatment, heat treatment and various other techniques that are fast and safe.
Our assistance is eco-friendly and you can be assured that there will be no side effects or safety issues after we complete our elimination services for your property. You and your family members, children and pets can always stay safe – given that we do not use any synthetic chemicals or other harmful substances in order to remove pests like bed bugs from your home or facility.
We are a reputed service provider in Lincoln Park Michigan and clients always relay on us which explains why we have so many loyal customers. In fact, we have more number of customers than most other similar kinds of service providers in Michigan.
We have been helping clients eliminate bed bugs throughout Michigan for over 30 years!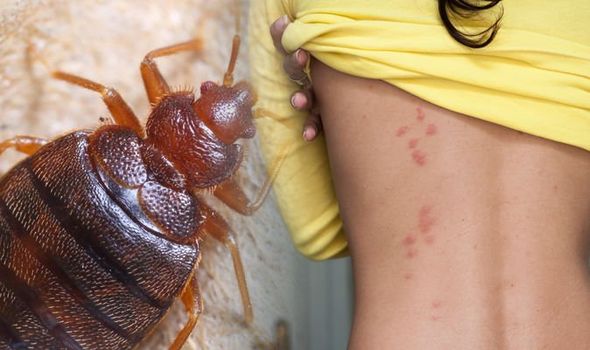 Residential Pest Control
Helping our customers with residential pest control services, click here to learn more
commercial Pest Control
Whether you own a restaurant, office building, or a property manager, we got your business covered!
Integrated Pest Management
Place pest control on auto-pilot. Let our experienced team manage your pest control needs.
Quick Assistance, Whenever Needed!
Are you looking for fast and timely bed bugs exterminator assistance in Lincoln Park, Michigan? At Hi-Tech Pest Control Company, we have the best service providers in our team to give you high quality assistance for your requirements at affordable costs. You can get all the help that you need without going over budget.
Why Bed Bug Lincoln Park?
Why You Should Not Ignore Bed Bug Issues?
Bed bugs might look harmless, but can give rise to various health issues – such as:
Itchy rashes on the skin
Psychological effects
Allergic symptoms
Acute skin issues in your body
Rapid breathing
Loss of sleep
There could be many more issues, and these should not be neglected. Get in touch with a medical care provider to treat these issues, and call us up to eliminate bed bugs and other pests from your home or establishment.
Great service, very professional and knowledgeable! Extremely satisfied with the immediate attention given to my issue and a solution within to resolve the situation within 24hrs . My service was completed on a Sunday at 7am, which is rare for a weekend! This company restored my comfort and peace in my home!!!
Don is amazing. I had a mouse in my room and although he was far away from my location, he came all the way to remove it after hearing I was panicking. He was very kind, understanding, and really ensured I felt safe. He gave me tips for the future, and did everything to the best of his ability. Awesome job, awesome guy. Will use this service again!
This was so awesome! He came right when I called got straight to the problem and diagnosed. He came back the next day and fixed my issue. It was A One service will recommend to everyone !! Thank you so much ! Very polite customer friendly and very knowledgeable!
We have used Hi-Tech Pest Control whenever a bug issue flares up and they provide effective services that can be adjusted as needed to each client. The process feel safe and is odorless.
Awesome & Efficient! They provided so many details about my problems that so many other pest control companies had never explained to me. They helped me when it felt like I had tried everything and every company out there. 100% Kill Rate!
Don has been doing our home for a year or so now and he is always so friendly. He has helped us out on all of our specific issues.
When I needed immediate help, Hi-tech Pest Control showed up at the exact time they promised and saved me from a sleepless night. They are punctual and professional.
Just a note of praise for Don who serviced my home. He was both courteous and professional. I chose your company because I want an earth-friendly approach to pest control. You have done this well as I am a returning customer. Thank you for your commitment to providing an earth-friendly approach to pest control. I will recommend you to friends. Thanks
Call us for a free of cost inspection!
What Makes Us the Best?
We have been around for over 30 years now and residential and business owners in Michigan have great faith on the kind of services that we offer. Our bed bug removal assistance is impeccable and designed to fit the budget and requirements of clients in the area.
We stand out apart from various other similar pest control agencies in Michigan by virtue of our affordability and on-time assistance, which is generally offered on the same day of placing a service order. Our services are backed by a 6-month warranty – which means that your interests as a customer are always protected and you do not have to worry about bed bugs or any other kind of pest problems within 6 months from the time of our service completion.
Residential, Commercial, and Industrial Pest Control Services
Do not be under the misassumption that we offer only residential pest control services, given that our exterminators also serve commercial and industrial facilities in the area. We serve a wide range of areas in Michigan and our services are always according to or beyond the expectations of our clients – which has made us a top pest control agency in these three decades.
Whenever you suffer from redness, swelling of the tongue, itchy red rashes on your skin, lack of sleep, and other problems and suspect that bed bugs or other pests could be the reason behind the issue, you can give us a call immediately. Our expert exterminated and best eliminators would be more than happy to help you out.
Give a call and schedule a no-cost inspection of your property right now. As soon as you book an appointment, we will send our men to your home or office/facility and find out about your pest control requirements. Our services are the most affordable in Michigan and you can find that out for yourself when you hire us.
Call us now!
So what are you waiting for? Do not suffer in silence. Call us to schedule a free-of-cost inspection or place a service order – to get same-day assistance immediately.
Thousands of customers have benefited from our services in Michigan and you can do so too. Let us help you out during your times of need. We are one of the best pest control companies in the area and our client's list includes many valued customers, such as famous personalities, reputed business owners, etc. You can easily find out about our services from them and get an idea easily about how we can help you out. When it comes to first and affordable assistance, we clearly have no competition.
Are You Looking for an Experienced Bad Bug Exterminator in Lincoln Park, MI?
Book An Online Appointment
Service Areas Include: Novi MI, Troy MI, Bloomfield Hills MI, Birmingham MI, West Bloomfield MI, Bloomfield MI, Royal Oak MI, Southfield MI, Lincoln Park MI, Farmington Hills MI, Northville MI, Walled Lake MI, Farmington MI, Wixom MI, Milford MI, Livonia MI, Dearborn MI, Plymouth MI, Canton MI, Dearborn Heights MI, Auburn Hills MI, Clarkston MI, Taylor MI, White Lake MI, Oakland MI, Pontiac MI, Oakland County MI, Berkley MI, Ann Arbor MI, Keego Harbor MI, Westland MI, Ypsilanti MI, Ferndale MI, Commerce MI, South Lyon MI, Commerce Charter Township MI, Waterford MI, Highland Charter Township MI, Brighton MI, Rochester Hills MI, Beverly Hills MI, Franklin MI, Grosse Pointe Woods MI, Madison Heights MI, Jackson MI, Orion MI, St Clair Shores MI, Sterling Heights MI