Bed Bug Exterminator Serving Brighton MI
Premier Bed Bug Removal Serving Brighton
We offer residential, industrial, and commercial pest control services in Brighton for over 30 years. If you have a bed bug or pest problems, the most important step you can take is to hire an experienced pest control expert who has the knowledge, equipment, and resources to immediately control your pest problems. We use the most effective in safely eliminating bed bugs and pests from homes and businesses. Don't wait, get rid of bed bugs today!
Whether it crawls, flies, bites, or destroys, our experienced team can eradicate it – especially bed bugs! We pride ourselves on doing the jobs those other guys can't. Contact us for a FREE inspection, you have nothing to lose. Call a knowledgeable exterminator today at 248-569-8001 to schedule your free inspection!
We are so confident in our approach to eliminating bed bugs that we are the only Michigan bed bug company to offer a 6-month warranty on all bed bug extermination services!
Residential Pest Control
Helping our customers with residential pest control services, click here to learn more
Commercial Pest Control
Whether you own a restaurant, office building, or a property manager, we got your business covered!
Integrated Pest Management
Place pest control on auto-pilot. Let our experienced team manage your pest control needs.
Are You Looking for an Experienced Exterminator?
Call Today for Your Free Estimate
We Offer Residential and Commercial Solutions for Michigan Residents!
Whether you need heat treatment for pests or chemical pest treatment, we got your covered! While our goal in treating pest problems is obviously to eradicate the pest and prevent it from coming back in the future, there are many high-risk factors that simply cannot be eliminated with one treatment.
Senior Living Communities
Residential Bed Bug & Pest Control Services in Brighton Michigan
Your home is one of your most valued assets, and ensuring your family is safe from disease promoting bed bugs, is our top priority. In addition to causing harm to people, pests if not treated quickly and efficiently, can compromise the structure of your home and valued possessions.
Upon the sight of a potential bug infestation, often times home owners try and take care of the problem themselves, eventually causing more damage in the long-term. Countless over-the-counter bug treatments are not effective, as many bugs have become immune to their effects. Our technicians can safely remedy your bed bug problem! Offering the best warranty in the business, is just the beginning. Contact our pest exterminators near Brighton today, and let's take back the control of the safety and comfort of your home.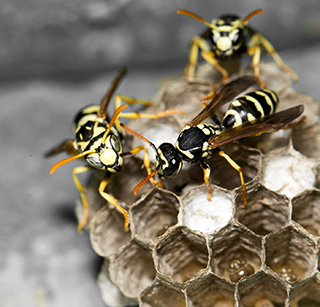 Commercial Bed Bug & Pest Control Services in Brighton, MI
Our knowledgeable industrial and commercial pest control technicians can help any establishment from hotels, restaurants, office buildings, churches and more! For the past 30 years, we have seen everything from bed bugs, bees, dangerous spiders, and rodents of all types. Taking preventative action to ensure the eradication of commercial pests such as ants, spiders, rodents, and roaches – you ensure the safety of your staff. More importantly, the lack of attention to potential commercial pest problems can carry liability. The good news is that our pest control professionals are capable and ready to handle all your commercial pest control needs throughout Brighton. Whether you are worried about pest issues in your residence or business, we can help!
IPM – Integrated Pest Management Services
Our Integrated Pest Management (IPM) program, is a proactive pest management solution for industrial businesses. We offer full-service pest control by capitalizing on biological, cultural, chemical and mechanical strategies to eliminate pests from your facility. The reality is that pests can cause problems at home and at work. Unfortunately, if left unattended, the situation can get much worse before it improves. Our IPM Solution, ensures that our clients throughout Brighton MI and nearby communities, are covered from day one! We take control of your pest problems to eliminate any potential problems before they begin. If existing commercial pest issues exist, we will minimize the damage and stop future concerns. Working with our pest control company, you can relax as we take the burden of controlling the risk of pest infestations.
Pest control, is what we do and we take it seriously. We have many industrial and IPM solutions to accommodate any pest maintenance need. Call us at 248-569-8001 to start your Integrated Pest Management program today!
Hi-Tech Pest Control
755 W Big Beaver Rd, Suite 2020
Troy, MI 48084
248-569-8001
Monday – Sunday 8:30am to 10:00pm
Services include: Bed Bug Removal, Bed Bug Exterminator, Pest Control, Exterminator Company, Home Pest Control, Insect Control, Pest Control Companies, Pest Control Service Service Areas: Detroit MI, Troy MI, Bloomfield Hills MI, Birmingham MI, Auburn Hills MI, West Bloomfield MI, Bloomfield MI, Royal Oak MI, Southfield MI, Farmington Hills MI, Northville MI, Oak Park MI, Warren MI, Saint Clair Shoes MI, Ann Arbor MI, Walled Lake MI, Clinton Township MI, Wixom MI, Milford MI, Plymouth MI, Livonia MI, Westland MI, Dearborn MI, Novi MI, Ypsilanti MI, Wayne MI, Huntington Woods MI, Farmington MI, Canton MI Rochester MI, Dearborn Heights MI, Clarkston MI, Oakland MI, New Hudson MI, Grosse Pointe Park MI, Grosse Pointe MI, Oakland County MI, Berkley MI, Ferndale MI, Commerce MI, Eastpointe MI, South Lyon MI, Hamtramck MI, Highland MI, Keego Harbor MI, Rochester Hills MI