Pest Control Services Ypsilanti MI
Preferred Pest Control Eradication Services including Yellow Jacket Removal, Ant, & Mice Extermination Ypsilanti MI
Offering residential and commercial pest control services in Ypsilanti for over 30 years. If you are in need of yellow jacket removal services, carpenter ant removal, mice extermination, and more contact us today!
When confronted with pest problems, make sure to contact an experienced pest control removal company, who has the knowledge, equipment, and resources to immediately control your pest problems. We use the latest techniques in safely exterminating pests from homes and businesses. Don't wait, Eradicate pests today!
If it stings, crawls, flies, bites, or destroys, our experienced exterminators in Ypsilanti can eradicate it – including yellow jackets, mice, carpenter ants, wasps, and other stinging insects! We pride ourselves on doing the jobs other pest control companies can't. We can also remove wasps and other stinging bees! Call a knowledgeable pest control exterminator today at 248-569-8001 to schedule your FREE INSPECTION!
We know how to get rid Pests! There's no place like home…unless you have a pest concern. Don't risk the health of your loved ones or the structure of your residence by ignoring the problem or trying to use over-the-counter sprays and other at-home remedies, that don't work! If a pest can be found in Michigan, we can exterminate it!
We are so confident in our approach to eliminating bed bugs that we are the only Michigan bed bug company to offer a 6-month warranty on all bed bug extermination services!
We Accept All Major Credit Cards
Residential Pest Control
Helping our customers with residential pest control services, click here to learn more
Commercial Pest Control
Whether you own a restaurant, office building, or a property manager, we got your business covered!
Integrated Pest Management
Place pest control on auto-pilot. Let our experienced team manage your pest control needs.
Are You Looking for a Pest Control Company?
Call Today for a Free Home Estimate!
248-569-8001
Commercial and Residential Pest Control Services in Ypsilanti, MI
Your home is one of your most valued assets, and ensuring your family is safe from stinging insects, is our top priority. In addition to pests harming individuals, if not treated promptly and efficiently, can deteriorate the structure of your home and valued possessions.
Once a home owner suspects a potential insect infestation, most home owners try and take care of the problem themselves, many times causing more damage in the long-term. Many of the over-the-counter pest control treatments are not effective, as many bugs have become immune to their effects. Our technicians can safely remedy your insect/pest problem! Offering the best warranty, is just the beginning. Contact our pest exterminators, with our service area near Ypsilanti today, and let's take control of the safety and comfort of your home.
Our experienced pest eradication technicians can manage any establishment or residence including hotels, restaurants, office buildings, churches, apartments and more! Over the past 30 years, we have seen everything from bed bugs, stinging bees, dangerous spiders, and rodents of all types. Taking preventative action to ensure the control and removal of commercial pests such as yellow jackets, carpenter ants, mice, spiders, rodents, etc., you ensure the safety of your working environment. More importantly, the lack of attention to potential stinging pest problems can cause long-term problems. The good news is that our pest control professionals are capable and ready to handle all your residential or commercial pest control needs throughout Ypsilanti. Whether you are worried about pest issues in your residence or business, we can help!
Yellow Jacket and Bee Removal Services Ypsilanti. Don't allow yellow jackets cause you problems. Contact our yellow jacket removal experts near you today!
Yellow jackets are ground nesting pests and are plentiful throughout Ypsilanti. Do you have a yellow jacket, wasp, or other stinging insect problem? We can help you get rid of yellow jackets and wasps today! Although yellow jackets are often mistaken for bees, they are classified as wasps. No matter where yellow jacket have occupied your home or business, we can help! These small wasps, often confused for bees, have a thin waist and elongated wings that span the length of the body. Yellow jackets typically nest in the ground and create their colonies below porches, in trees, and sidewalk cracks. When threatened, yellow jackets are able of stinging repeatedly and their sting is known to be painful.
After the yellow jacket nest is identified, the problem can be resolved in a few of ways. For aerial nests built in a structure such as a building, it is important that the entrance is not blocked until all of the yellow jackets are dead. Typically, this process is done at night when most of the yellow jackets are inside of the nest. Our yellow jacket, wasp, and other stinging insect pest control experts will safely eradicate these pests! Once these wasps are dead, it is safe to remove the nest.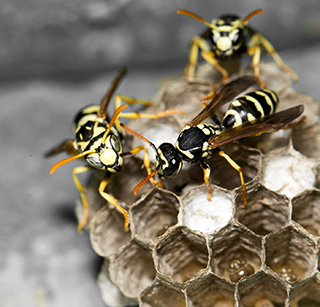 Common Residential and Commercial Bed Bug and Pests Located in Michigan:
Acrobat Ants
Acrobat ants are found both indoors and outdoors. When found outdoors, they nest near moisture, such as under stones and woodpiles or in rotting logs. When found indoors, they nest in damp areas, such as in roofing near leaking skylights or near the foam sheathing underneath siding. Oftentimes, these ants inhabit the areas that carpenter ants or termites have already damaged, as they commonly clean out the debris left from these pests. They are commonly mistaken for termites.
Earwigs

How can I get rid of earwigs?
The most important step in earwig eradication is eliminating all of their hiding spaces. Create a "dry zone" around the foundation of your home that is about 6 to 12 inches wide by removing all dead leaves, mulch, and other organic material. Trim all shrubs and trees that cause damp, shady areas near your home. Also, move all logs, decorative stones, firewood piles, and other landscaping items away from the foundation of your home. Double check all of your gutters and downspouts to make sure they drain away from the foundation of your home, further eliminating moisture.
Spiders

How can I get rid of spiders in my home?
There are many preventative measures you can take against a spider infestation. First and foremost, keeping your house clean can prevent a spider infestation by eliminating spaces for them to hide. Make sure to tightly seal all food to prevent potential spider prey from entering your home. Check all window and door frames and screens to ensure these insects can not crawl into them. You should also remove all vegetation from directly outside of your home, as spiders love to hide in the dark, moist area underneath it.
Carpenter Bees
Is getting rid of Carpenter bees difficult? How do I get rid of Carpenter bees?
In the past, people have tried to trap or spray carpenter bees in order to control the issue, which tends to worsen the problem. Carpenter bees burrow inside of the wood in and around your home and can cause devastating damage to the structure, so it is best to call a pest control professional for the extermination of these bees. Hi-Tech Pest Control has the specialized equipment, pesticides, and knowledge to exterminate Carpenter bee infestations of any size. It is crucial to have a timely treatment for carpenter bees, as these bees are known to be damaging to the structure of your home. Call us today or schedule your free inspection!
Fleas

How do I get rid of fleas in my home?
Preventative measures include sealing gaps, cracks, and holes in order to keep out rodents or other potential hosts from entering your home. Washing bedding and keeping your home clean and clutter-free is also helpful. Additionally, if you suspect you might have a flea outbreak, be sure to wash and groom your pets and take them to the veterinarian as a precaution. There are a variety of over the counter products that promise to help remove fleas, but they are rarely effective and do not get to the root of the flea problem. It is best to call a pest control professional, as every case is different and varying or multiple solutions may need to be employed for each different case.
Ticks

How do I get rid of ticks inside of my home?
The most obvious sign of a tick infestation is the ticks themselves, which may be found after the discovery of the presence of disease or other fluids transmitted by the tick to their host organism. Although most species of tick do not thrive in the home, it is important to take preventative measures against these parasites. Be sure to repair all crevices and gaps between the inside and outside of the home, and also keep the grass cut short.
Centipedes

How Do I Get Rid of Centipedes?
Centipedes can be exterminated at home, but it is best to contact your local pest control professional to ensure that they are properly treated. Chemical treatments can be effective in the short-term, but may give you a false sense of security in the long run. At Hi-Tech Pest Control, we combine these chemical treatments with a proactive approach towards centipede eradication. To find the source of the problem, we perform a full inspection of your home and help correct the risk factors for a centipede invasion, such as moisture problems, identification of holes, cracks, and gaps that enable these insects to come inside, high-risk clutter areas to clean up, reducing the number of insects that the pests prey on in the home, and removing all indoor centipedes with a vacuum. Call Hi-Tech Pest Control today, or request a free inspection!
Mice

How can I get rid of mice?
One preventative measure you can take against mice is to seal all cracks, crevices, gaps, and holes larger than a pen cap with cement. Do not use wood, as these rodents can chew through it. Cleanliness is also a factor with mouse infestations. Be sure to seal all food in a glass or metal container with a tight lid, and also make sure to wash dishes after use. A major hydration source for these rodents is from scavenged food particles, so keeping crumbs and food morsels off of floors and counter-tops can also help keep them out.
Yellow Jackets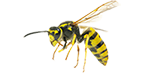 How do I get rid of yellow jackets?
Yellow jackets are pollinators that eat many harmful insects, so you do not need to take any action unless there is a stinging risk for people or pets. To prevent yellow jackets from nesting, it is beneficial to keep all trash cans closed and clean so that yellow jackets cannot scavenge for food inside or outside of the can. You can also purchase specialized yellow jacket traps; however, due to the fact that there can be thousands of these pests inside of a single colony, that may be ineffective for larger infestations. It is recommended that you call a pest control professional to solve this problem.
Cockroaches

How Can I Get Rid of German Cockroaches?
German cockroaches can live from 100 to 200 days, but are known for their ability to reproduce quickly. They have few natural predators inside of human habitats. Due to these factors as well as the fact that they are known to spread disease, a German Cockroach problem can grow out of hand quite rapidly. To exterminate German Cockroaches, professional treatment is required. Call Hi-Tech Pest Control today for your free inspection!
Rats

How do I get rid of rats? Is getting rid of rats easy?
Since rats are known to spread disease, it is best to contact your local pest exterminator. Preventative measures include sealing all entryways in walls, eaves, and the roof, trimming all tree branches so that they can't climb, and making sure that all windows and doors are screened.
Bed Bugs

What do bed bugs look like?
The anatomy of a bed bug is much like any other bug, with a beak with three segments, a four part antenna, and wings that are not used for flying. Bed bugs are typically reddish-brown in color when unfed and more brownish when fed and tend to be more oval-shaped.
Do you have mice? Our professional mice removal services – can help individuals and businesses in Ypsilanti MI eradicate problems with mice
Mice, commonly mistaken as rats, are rodents that are found hiding in Michigan homes and businesses. The most obvious difference between a mouse and a rat is size; rats are much bigger and darker in color than mice. One effective measure you can take to eradicate mice, is to seal all cracks, crevices, gaps, and holes that are larger than a pen cap. Do not use wood, as these rodents can chew through it. Cleanliness is also a consideration with mice infestation. Be sure to seal all food in a glass or metal storage container with a snug lid, and also make sure to dishes after use.
A major water source for these rodents is from scavenged food particles, keeping crumbs off of counter-tops can also help keep them out. However, if mice have invaded your residence, these preventative steps will not help. If you are at this point, you should call your pest control professional to help exterminate the problem. Our knowledgeable pest exterminators have specialized equipment and knowledge to solve your mice infestation. Call us today or schedule your free pest inspection and let's remove the mice from your home or business for good!
Are You Searching for Ant Removal Services in Ypsilanti MI? Don't let ants such as destructive carpenter ants, cause you problems!
There are many species of ants, however, carpenter ants are the most common invaders of homes and facilities. When found outdoors, they take residence near moisture, such as under stones. When found inside homes, they nest in damp places, such as in roofing near leaking skylights or underneath siding. Oftentimes, these ants reside in areas that termites or other ants have frequented, as they commonly remove the debris left from these problematic pests.
Carpenter ants crawl into your home through open entryways, but they can also enter your home or facility through the same opening that pipes and wires go through. They also walk on tree limbs that touch your house. Bits of foam on the ground outside of your residence is one sign of an ant infestation. There are many ways you can prevent problems with ants. For example, you can trim trees and shrubs that touch your house or building, and move firewood piles far from your home. However, if you have an ant infestation, it's best that you let an experienced pest control and ant removal company handle this issue. Knowing that your concern will be resolved quickly and efficiently is what we do!
Hi-Tech Pest Control
755 W Big Beaver Rd, Suite 2020
Troy, MI 48084
248-569-8001
Monday – Sunday 8:30am to 10:00pm
Services include: Bed Bug Removal, Bed Bug Exterminator, Pest Control, Exterminator Company, Home Pest Control, Insect Control, Pest Control Companies, Pest Control Service Service Areas: Detroit MI, Troy MI, Bloomfield Hills MI, Birmingham MI, Auburn Hills MI, West Bloomfield MI, Bloomfield MI, Royal Oak MI, Southfield MI, Farmington Hills MI, Northville MI, Oak Park MI, Warren MI, Saint Clair Shoes MI, Ann Arbor MI, Walled Lake MI, Clinton Township MI, Wixom MI, Milford MI, Plymouth MI, Livonia MI, Westland MI, Dearborn MI, Novi MI, Ypsilanti MI, Wayne MI, Huntington Woods MI, Farmington MI, Canton MI Rochester MI, Dearborn Heights MI, Clarkston MI, Oakland MI, New Hudson MI, Grosse Pointe Park MI, Grosse Pointe MI, Oakland County MI, Berkley MI, Ferndale MI, Commerce MI, Eastpointe MI, South Lyon MI, Hamtramck MI, Highland MI, Keego Harbor MI, Rochester Hills MI