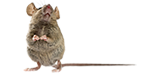 WHY DO I HAVE MICE ALL OF A SUDDEN?
Believe it or not if you had the first sighting it could mean that you already have to many. Get a good book on rodents and it will say that if you saw a mouse then you already have to many. MIce have 5 to 6 pups in a litter and the gestation period is 18 to 21 days. Two mice can produce 1500 or more mice in one year. Mice will find harborage's and places to hide, and you will not see them until you have too many. It is always easy to believe that when you have the first sighting that he just came in from outside.
WHAT SHOULD I DO IF I KNOW I HAVE MICE?
Your first task is eradicating mice faster than they are reproducing. Killing mice one at a time with glue traps, and mechanical traps has never been effective at reducing the populations. If you do catch one on a trap it probably means you already have too many. Rodenticides are the fastest way to completely eradicating mice. Rodenticide is anything that rodents feed or drink that will kill them. There are various types of rodenticides and choosing the right one's is the key to solving your rodent problem. Make sure that the sanitation is excellent and you are not competing with food, or most important pet food. Securing the home is Secondary to completely eradicating all of the mice. In Michigan Mother Nature secure's your home from mid November until the end of May. If you have an annoying guest in your home you would not lock the door while they are still in your home, you would put them out first and then secure the home.
HOW CAN I TELL IF I HAVE TOO MANY MICE!
You might already know that you have too many mice when you see droppings. Mice only travel approximately 4 feet foraging for food. Droppings in multiple locations in the home means that they did not just walk up underneath the door and into the house. Remember you are not supposed to see Mice. Assuming that you just got them, or it just started after the first sighting is a mistake. Professional's determine populations on droppings alone.
s