Affordable bed bug exterminator in Southfield
Michigan
Michigan's #1 Bed Bug Exterminator
Have a Bed Bug Problem? 
Call Today!
We are so confident in our approach to eliminating bed bugs that we are the only Michigan bed bug company to offer a 6-month warranty on all bed bug extermination services!
Get the best bed bug exterminator and pest control services in Southfield, Michigan!
For more than three decades now, we have been helping out clients with bed bug elimination throughout Southfield, Michigan. We offer real services with real results. Our residential pest control services can make your home bed bug free. We can cover your business with our commercial pest control services – whether you are a property manager, office building owner or restaurant owner.
Our company offers high quality residential and commercial exterminator services which can be very useful for putting an end to your bed bug and pest problems.
All over Michigan, bed bug infestations have turned into a major problem. For the public in general, lack of expert pest control professionals, resistance of bed bugs to over the counter pesticides and an increase in travel activities have led to a big rise in bed bug infestation problems.
In order to make your home free from these small pests, it is very important to carry out early and timely identification. At Hi-Tech pest control agency we have expert eliminators who can teach you all that you must know about identifying bed bugs – from the appearance, ship and size of these pests to all those common areas in your residence where you are likely to find them.
Affordable Services with Warranty!
We are an affordable agency and can offer high quality bed bug control and extermination services with a warranty of 6 months. The warranty shows the kind of confidence that we have in our approach.
Actually, we are the only bed bug company in Michigan to offer 6 months of warranty on all bed bug elimination services to our customers. Our professional exterminators can eradicate bed bugs from various areas of Southfield, Michigan.
For more than 30 years now, we have been offering residential, commercial and industrial bed bug and pest removal services in Southfield, Michigan. Expert exterminators who work for our agency have all the resources, equipment and knowledge to control your best problems immediately.
Our professionals always use safe and effective pest and bed bug extermination services, which can easily make your home or business much safer and more comfortable.
Our experienced exterminators have the knowledge, equipment, and resources to immediately control your pest concerns.
We have been helping clients eliminate bed bugs throughout Michigan for over 30 years!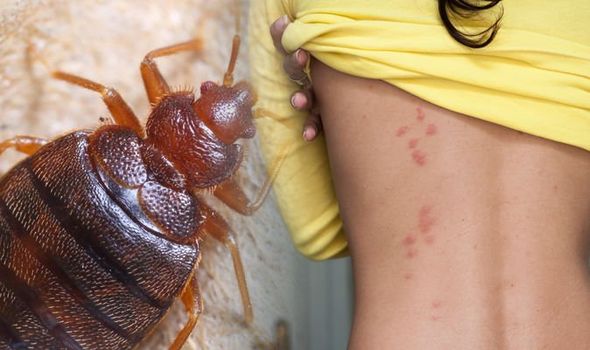 Residential Pest Control
Helping our customers with residential pest control services, click here to learn more
commercial Pest Control
Whether you own a restaurant, office building, or a property manager, we got your business covered!
Integrated Pest Management
Place pest control on auto-pilot. Let our experienced team manage your pest control needs.
Offers & Details
We Offer Residential and Commercial Bed Bug Services to Southfield MI Residents!
Are you looking for the best bed bugs exterminator? You can easily depend on the pest control services of Hi-Tech bed bug exterminator and Pest Control Company in Southfield, Michigan to protect your home and business.
What Should You Know About Bed Bugs?
It is important to know what attracts bed bugs. Bed bugs generally thrive in houses that are warm, particularly inside of or close to beds and bedding or some other areas where people sleep on. When well-fed, these are brownish in color and when malnourished, these are generally reddish-brown in color.
The eggs of bed bugs are small in size and transparent. But these may also be milky or yellowish-white in color in some cases. Basically, these can be found in a wide range of colors and it is important to know how to spot the eggs of these pests.
Bed bugs, just like mosquitoes, suck on blood – which leads to itchy bites on the skin. These are known to be able to sustain without feeding for up to a year.
The USDA, CDC and EPA consider bed bugs to be a public health pest, although these are not known to spread or transmit disease.
Generally, these are nocturnal pests – which mean that these sneak up on humans to feed on their blood. Typically, these are oval in shape, have wings that are not used to fly, a four-part antenna and a beak consisting of three sections. These are small in size but how small you can find these to be actually depends on their current life cycle and whether they have sucked on blood recently or not.
I was having a big problem with bed bugs in my home. They were EVERYWHERE. I was using the sprays from the supermarket but it wasn't helping get rid of them. I found Hi-tech Pest Control and the reviews were spot on so I gave them a call for some general info. The customer service I got on the phone was EXCELLENT! Within 1 day Don was at my home at the scheduled time…actually he was 22 minutes early. He was informative, detailed and an all around good guy. He gave me a great package to fit my budget and service plan that wasn't more than what I needed. Hi Tech Bed bug Exterminator is good for anyone with bed bug issue. I praise them and thank them dearly.
Our 6 month Bed Bug removal service is not only 100% effective it allows our clients time enough to rest and heal from the traumatic effects from these unwelcome home invasions.
Reliable and trustworthy. They came all the way over to my house, found no evidence of infestation, and charged us nothing. That was cool.
Don is the best pest control service manager I have ever met! He is so personable and fantastic at meeting my needs with a smile on his face! He responds quickly when I have questions and is flexible at working around my schedule. He comes to my home and sprays monthly to prevent all pests throughout the year and in the summer he helps us out with wasps and mosquitoes! Don assured me that the products they use in the house are pet friendly and will not harm any animals or you. If you have any pest control needs, definitely ask for Don.
I am delighted with this company. Don is my service technician. He has helped me so much by taking care of any insect that crawls. They use a pet friendly pest control solution.
Don is professional, friendly, courteous & I am happy to have him caring for our home.
He texts us the day before his arrival as a courtesy.
I appreciate his service & how detailed the company is in how they care for their clients.
I had bugs get into my house one night and called Hi-tech right away. They came out the next morning and did an estimate and performed the service a day later (and a follow up treatment two weeks later). Very professional and knowledgeable. Haven't seen a bug or felt a bite since. They offer a much longer warranty on services than most and they were very knowledgeable, with more than 30 years experience. The service was pet friendly which was a huge concern since I have two cats, two dogs and a reptile. I would highly recommend. Get it done right the first time!
The owner sprayed my house inside and out and was very efficient and so friendly. He uses safety measures for Covid. He also lets you know about safety precautions for your animals before spraying. To top it off, they are very reasonable with the cost of their services! I highly recommend Do or Die Pest Control!
Put an End to Your Pest and Bed Bug Problems, Now!
We offer great value for money services and residents of Southfield, Michigan are extremely happy with our residential and commercial bed bug assistants.
We have always got you covered – whether you need chemical pest treatment or heat treatment for pests like bed bugs. We always try to eliminate pests and prevent the recurrence or return of bed bugs in the future. Keep in mind, however, that a single treatment session is not always enough to eliminate bed bugs – because there are plenty of high-risk factors to take care of.
We have been offering residential, industrial, and commercial pest elimination and bed bug services in Southfield, MI for over 30 years. We use the most effective methods to safely exterminate bed bugs and pests from your home or business.
Get in touch with us easily now, for a free-of-cost inspection service and lose nothing. Schedule your free-of-cost inspection by giving a call to our expert exterminators today. See what we can do for you, with your own eyes!
Are You Looking for an Experienced Bad Bug Exterminator in Southfield, MI?
Book An Online Appointment
Service Areas Include: Novi MI, Troy MI, Bloomfield Hills MI, Birmingham MI, West Bloomfield MI, Bloomfield MI, Royal Oak MI, Southfield MI, Lincoln Park MI, Farmington Hills MI, Northville MI, Walled Lake MI, Farmington MI, Wixom MI, Milford MI, Livonia MI, Dearborn MI, Plymouth MI, Canton MI, Dearborn Heights MI, Auburn Hills MI, Clarkston MI, Taylor MI, White Lake MI, Oakland MI, Pontiac MI, Oakland County MI, Berkley MI, Ann Arbor MI, Keego Harbor MI, Westland MI, Ypsilanti MI, Ferndale MI, Commerce MI, South Lyon MI, Commerce Charter Township MI, Waterford MI, Highland Charter Township MI, Brighton MI, Rochester Hills MI, Beverly Hills MI, Franklin MI, Grosse Pointe Woods MI, Madison Heights MI, Jackson MI, Orion MI, St Clair Shores MI, Sterling Heights MI