Michigan's #1 Bed Bug Exterminator
Have a Bed Bug Problem? 
Call Today!
We are so confident in our approach to eliminating bed bugs that we are the only Michigan bed bug company to offer a 6-month warranty on all bed bug extermination services!
Affordable Bed Bug Eradication Serving Sterling Heights Michigan
Offering residential, industrial, and commercial pest removal and bed bug services in Sterling Heights MI for over 30 years. If you have a bed bug or pest problems, an important step you can take is to contact an experienced exterminator who has the knowledge, equipment, and resources to immediately control your pest concerns. We use the most effective in safely exterminating bed bugs and pests from your home or business. Don't wait, get rid of bed bugs today!
If it crawls, flies, bites, or destroys, our experienced team can eradicate it – especially bed bugs! We pride ourselves on doing the jobs those other guys can't. Contact us for a FREE inspection, you have nothing to lose. Call a knowledgeable exterminator today at 248-569-8001 to schedule your free inspection!
Bed bug infestations have become an increasingly large problem here all over Michigan. Due to a variety of factors, such as an increase in travel, bed bugs' resistance to over-the-counter pesticides, and a general lack of knowledge from many pest control professionals and the general public alike. Early bed bug identification is the key to effectively ridding your home of bed bugs. Hi-Tech Pest Control is here to teach you everything you need to know about bed bug identification, from the size, shape, and appearance of bed bugs to places in your home where you're likely to find bed bugs.
We have been helping clients eliminate bed bugs throughout Michigan for over 30 years!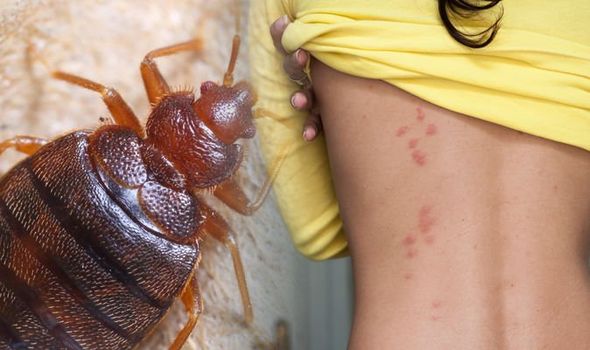 Residential Pest Control
Helping our customers with residential pest control services, click here to learn more
commercial Pest Control
Whether you own a restaurant, office building, or a property manager, we got your business covered!
Integrated Pest Management
Place pest control on auto-pilot. Let our experienced team manage your pest control needs.
Offers & Details
We Offer Residential and Commercial bed bug services to Sterling Heights MI Residents!
Whether you need heat treatment for pests or chemical pest treatment, we got you covered! While our goal in treating pest problems is obviously to eradicate the pest and prevent it from coming back in the future, there are many high-risk factors that simply cannot be eliminated with one treatment.
Are bed bug bites dangerous?
A number of adverse health effects may result from bed bug bites, including skin rashes, psychological effects, and allergic symptoms. Seek immediate medical care if you experience these symptoms after experiencing a bed bug bite. Depending on the severity of the bed bug bites and your personal reaction to them, bed bug bites can be treated at home or simply by visiting your dermatologist or primary care doctor. Treating bed bug bites could be as simple as washing the affected area with soap and water; however, bed bug bite treatment can be as complex as having to get prescribed to an antihistamine or a steroid by a doctor.
As a landlord, finding honest and decent pest control service can sometimes be a huge headache! After the visit and service received today, I will be using Hi-Tech Pest Control for all of our pest control needs. They were honest, fair with pricing, and they were able to come faster than any other pest control company that we called, including those "big name" companies. I will no longer be using any other pest control company and would recommend their service to anyone!!
Called this company less then an hour ago for a service in my home and they were here within 25 min. The tech that showed up was so kind and so helpful with everything. He was able to explain why he thinks we were having this problem in our home. He explained what he would be doing to get rid of my issue. I also set up a monthly servicing! Their prices are beyond reasonable and I am so happy with the service they performed today! Thank You Guys so much!
My nephew came in from California and spent the weekend with his grandma. 3 weeks later, house infested with bed bugs. Interviewed many pest control companies, all traditional pest control companies are a scam and I feel prey on people's ignorance of this issue. Bedbugs are a different monster than ants, bees, etc. After talking to many companies, I decided to call this company, had a guy, Don, come out. He told us straight exactly what we were dealing with, the work that would be required once he was done and guaranteed his work for 6 months, which is unprecedented. No other company does this, plus other companies make you sign a contract. He educated us, we listened. He treated the entire house, in early December, we did the work required after, nothing since. Bedbug infestations needn't be terrifying, once you understand what needs to be done. Not gonna lie, it's a lot of work. Reinfestation only happens when you don't listen and do the work (or someone brings them back in). I loved this company, I particularly loved Don. He is a no-nonsense professional that would rather tell you the truth about your situation than tell you lies to make you feel good; a trait I admired greatly. Don't waste your time for bedbugs with any other company. Trying to treat this yourself is a losing and time consuming battle. Don is great and I highly recommend this company for this particular issue, without hesitation. Thanks Don!
Good job by Hi-Tech Pest Control! Tech was here timely, identified the problem immediately and although he did not come inside he did a thorough job on the patio and the entire perimeter of the house outside. Hopefully, the bugs will not come inside my house! Thanks.
Amazing service, wonderful staff, and incredibly knowledgeable. The technician came to our apartment on time and they were able answered all of our questions, and made sure we were 100% satisfied before they left. Couldn't have asked for a better visit! Hi-Tech Pest Control is the best around!
Bed Bug Early Identification
The early identification of bed bugs can be the difference between a bed bug problem being minor or severe. Our Bed Bug Early Identification guide can help you figure out whether you have a bed bug infestation or another problem.
Attraction - What attracts bed bugs?
Bed bugs thrive in warm houses, especially close to or inside of beds and bedding or other sleep areas.
Color - What color are bed bugs?
Bed bugs are typically reddish-brown in color when unfed and more brownish when fed.
Eggs - What do bed bug eggs look like?
Bed bug eggs are small in size and clear to milky-yellowish-white in color.
Food - What do bed bugs eat?
Like mosquitoes, bed bugs feed on blood, causing itchy bites. Bed bugs are known for their ability to go up to a year without feeding.
Disease - Do bed bugs cause disease?
Bed bugs are considered a public health pest by the EPA, the CDC, and the USDA, although they are not known to transmit or spread disease.
Behavior - What is typical bed bug activity?
Bed bugs are primarily nocturnal, which enables them to feed on humans while they sleep in such a stealthy way.
Body - What does a bed bug's body look like?
Bedbugs are typically oval-shaped. The bed bug is characterized by a beak with three segments, a four-part antenna, and wings that aren't used for flying.
Size - How big are bed bugs?
Bed bugs are small, but just how small they are depends on their current stage in the life cycle, as well as whether or not they have recently consumed a blood meal.
Are You Looking for an Experienced Bad Bug Exterminator in Sterling Heights MI?
Book An Online Appointment
Service Areas Include: Novi MI, Troy MI, Bloomfield Hills MI, Birmingham MI, West Bloomfield MI, Bloomfield MI, Royal Oak MI, Southfield MI, Lincoln Park MI, Farmington Hills MI, Northville MI, Walled Lake MI, Farmington MI, Wixom MI, Milford MI, Livonia MI, Dearborn MI, Plymouth MI, Canton MI, Dearborn Heights MI, Auburn Hills MI, Clarkston MI, Taylor MI, White Lake MI, Oakland MI, Pontiac MI, Oakland County MI, Berkley MI, Ann Arbor MI, Keego Harbor MI, Westland MI, Ypsilanti MI, Ferndale MI, Commerce MI, South Lyon MI, Commerce Charter Township MI, Waterford MI, Highland Charter Township MI, Brighton MI, Rochester Hills MI, Beverly Hills MI, Franklin MI, Grosse Pointe Woods MI, Madison Heights MI, Jackson MI, Orion MI, St Clair Shores MI, Sterling Heights MI